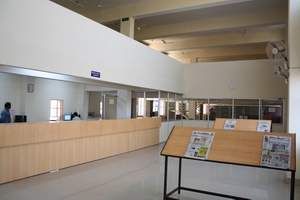 Library is the soul of the educational institution. The Library has been an integral part of academic endeavour in Institute. The Central Library of the Institute is a gateway to knowledge resources. Since its establishment in May 2008, the library is functioning in a separate library building with two floors. The library began with a core collection of 1500 books. Keeping in view intensive and extensive use, the library is being constantly enriched by the acquisition of latest books and journals keeping in pace with changing times, to further the advancement of the Institute's academic activities. The Institute library has around 20000+books covering all disciplines of Engineering and Technology, MBA and Pharmacy. Some of major journals and magazines are available in the Library having the subscription to over 63 national and International Journals and Magazines. The collection of the library is growing by the day. We are planning to add other collections to the library in near future which will include CDs, audio/video cassettes etc. Students can have access to e-books and previous year's examination question papers of various courses offered by the University through the Digital Library. It also has a separate collection of prescribed textbooks under 'Book Bank' for the exclusive use of students.
The institite library has J-gate e-journal. A comfortable and spacious seating arrangement provides a complete academic atmosphere in the library where students can sit and concentrate. The catalogue of books helps students to identify their needs and quick reference.
Library is updated regularly as the new books are added. A Display Board has also been provided in the Library where students can view interesting articles and news-clippings directly.
Library provides various services for its members such as - Lending of books and journal back volumes, reservation of books, photocopying, DTP & offset printing, CDROM and Internet services . All the library activities are computerized, including bar-coded ID cards. The Library is equipped with modern facilities like Interactive CD-ROM, Videos, Computer-based learning Packages and Internet which helps the institute in achieving the target. The recorded Video lectures of the eminent Professor from IITs are also available in the library under NPTEL facility.
Issue/Return
For Students
Book Bank Facility:

five books of the relevant theory subject are issued to the students for the complete Semester.

Reference Book:

Two reference books or one reference book and one volume of journal are issued for fifteen days to all the Students as per their entitlements.
For Faculty/Staff Members
Five books or and one volume of journal for fifteen days to all the faculty and staff members are issued as per their entitlements.
Issue/ReturnTiming
General / Reference books - Monday-Saturday: 8.00 A.M. to 8.00 P.M.
News Papers in the Library
| | |
| --- | --- |
| S.No. | Name |
| 1. | Dainik Bhaskar |
| 2. | Dainik Jagran |
| 3. | Raj Express |
| 4. | Patrika |
| 5. | Hindustan Times |
| 6. | Times of India |
| 7. | Employment News |
| 8. | Rojgar Nirman |
| 9. | The Hindu |
| 10. | People Samachar |